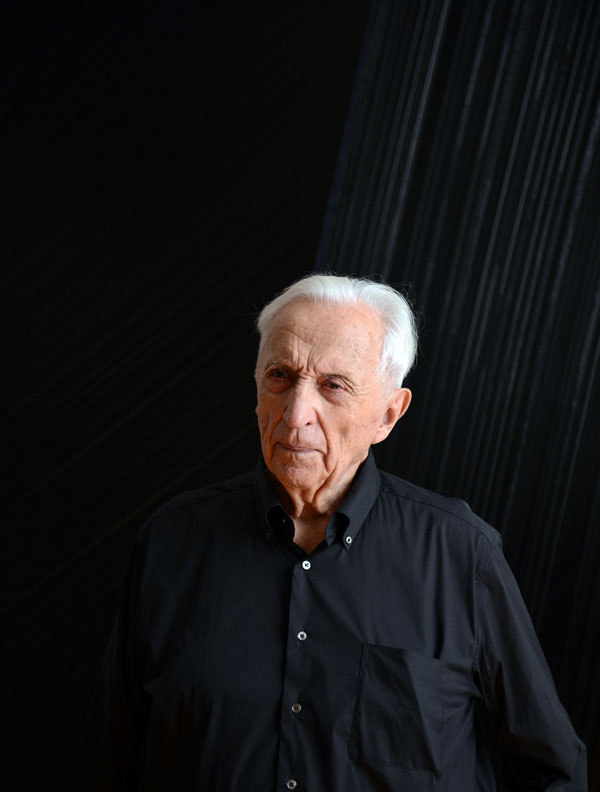 PIERRE SOULAGES
"One day I was painting, black had invaded the entire surface of the canvas, without shapes, without contrasts, without transparencies.
In this extreme I saw in a way the negation of black.
My instrument was no longer black, but this secret light coming from black."
Pierre Soulages
We are deeply saddened to announce the passing of the artist Pierre Soulages. He was 102 years old, and leaves an immense legacy. Our condolences to his wife, Colette, who accompanied him for so many years. One of the greatest painters of our time, but mostly a soul in search of the absolute, through his relentless work on the depth and luminosity of the color black. This passion had seized him, as a child, in front of the prehistoric steles of the Museum of Rodez, where he was born. Or even, in Conques, the 11th century abbey, as a child, where years later he would create incredible stained glass windows (1992 - 1994). It was at that moment that the certainty of art and his vocation to paint had come to him. The architecture of the abbey of Sainte-Foy impressed him, just like a vision. Painting, engraving, lithography, he declined on all mediums his obsession with black, digging deep in what had marked his childhood. "The things that were fraternal to me, the earth, the old wood, the stones, the wet iron, all these rough things certainly marked me. I have always preferred them to pure and lifeless materials."
Light and darkness, rough and smooth, matte and shiny: Soulages was the painter of contrast, which found its incarnation in abstraction and his Outrenoir - beyond black, to light.

"Soulages was one of the most innovative painters of the 20th century, a remarkable artist and extraordinary person. He will be missed but his work will undoubtedly live on."
- Gilles Dyan, Opera Gallery Founder and Chairman
https://www.operagallery.com/