Exhibition Spanning Gerhard Richter's Prolific Six Decade Career to Open at The Met Breuer
Gerhard Richter

Exhibition Dates: March 4–July 5, 2020
Exhibition Location: The Met Breuer, Floors 3 & 4

The Met Breuer
945 Madison Avenue
New York, NY 10021
Phone: 212-731-1675 web site : https://www.metmuseum.org/

The Met will present a major loan exhibition devoted to the work of one of the most renowned artists of our time: Gerhard Richter (German, born Dresden 1932). On view at The Met Breuer from March 4 through July 5, 2020, Gerhard Richter: Painting After All will consider the entire span of the artist's career through some 100 works including paintings, glass sculptures, prints, and photographs. Conceived in close collaboration with the artist, the exhibition will reveal Richter's six decade-long preoccupation with the dual means of representation and abstraction, and his continual exploration of the material, conceptual, and historical implications of painting. This will be the first major U.S. survey on the artist in nearly 20 years.

The exhibition is made possible by the Barrie A. and Deedee Wigmore Foundation.

Corporate sponsorship is provided by Morgan Stanley.

Major support is provided by David S. Winter and the Modern and
Contemporary Art Visiting Committee.

Additional funding is provided by Angela A. Chao and Jim Breyer,
Jane C. Carroll, the Horace W. Goldsmith Foundation, Kenneth and Rosalind Landis, and the Peterson Family Foundation.
Gerhard Richter (German, b. 1932), Betty, 1977. Oil on canvas, 30 cm x 40 cm,
Museum Ludwig, Cologne, Germany (permanent loan from a private collection).
© Gerhard Richter 2020
The exhibition is supported by an indemnity from the Federal Council on the Arts and the Humanities.
"Gerhard Richter is one of the greatest artists of our time, and this momentous exhibition will present an incisive overview of his astonishingly diverse and deeply compelling practice," said Max Hollein, Director of The Met. "In Richter's work we can see a powerful reckoning with history and memory—on both collective and personal terms—and a demonstration of the ways that art can affect perception and challenge our perspectives. This show is sure to be a remarkable tour de force."
Gerhard Richter: Painting After All will highlight two important recent series by the artist that serve as significant points of departure for the exhibition, and that emblematically lie at the heart of the two-floor installation: Cage (2006) and Birkenau (2014), both of which will be exhibited in the United States for the first time. Richter's encounter with the only known photographs taken by prisoners inside the Nazi concentration camp led to the creation of the Birkenau series. The four paintings speak to Richter's belief in painting as a powerful means to address the complex and often-difficult legacies of both personal and civic history. The six Cage paintings are key to understanding his lifelong preoccupation with abstraction through a different lens. In homage to the American composer and philosopher John Cage, whose innovative compositional techniques used chance as a way to "imitate nature," Richter's meticulous multi-layered paintings are based on similar principles of calculated incidents.
Gerhard Richter (German, b. 1932), Cage 4, 2006. Oil on canvas, 290 cm x 290 cm,
Tate Modern, London, UK (loan from a private collection). © Gerhard Richter 2020
The exhibition will present works from different periods that bring into focus his specific and enduring interest in how paintings are conceived, produced, and situated within a historical lineage. Ranging from photo-based images to nonobjective compositions, Richter has tested the ability of art to reckon with personal history, collective memory, and identity, particularly in the context of post–World War II German society, and its ability to confront the aesthetic legacies of Euro-American modernisms through experimentation with painterly traditions and new modes of producing images.
This will be the first major exhibition in the United States on the work of Gerhard Richter in nearly twenty years. Installed across two floors of The Met Breuer, Gerhard Richter: Painting After All will feature several iconic works such as Uncle Rudi (1965), Betty (1977), and September (2005), and will also highlight many lesser-known works such as his early series Elbe (1957). Galleries devoted to cycles including the twelve paintings entitled Forest (1995), will provide an immersive experience. Finally, two new glass works Grey Mirrors (4 Parts) (2018) and House of Cards (5 Panes) (2020) will be debuted in the exhibition.
Following its presentation in New York, the exhibition will travel to the Museum of Contemporary Art in Los Angeles (August 15, 2020 – January 19, 2021).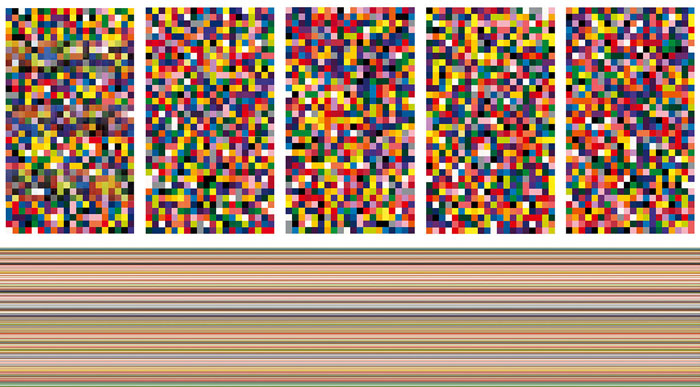 Up: Gerhard Richter, 4,900 Colors, 2007. Enamel paint on aluminum, 140 panels (each panel: 48.5 x 48.5 cm),
5 plates (each: 7 x 4 panels): 339.5 x 194 cm. Private Collection, © Gerhard Richter,
Courtesy the artist and the Metropolitan Museum of Art
Down: Gerhard Richter, Strip, 2013. Inkjet print on fine art paper between acrylic and aluminum, 200 x 1000 cm,
Private Collection, © Gerhard Richter, Courtesy the artist and the Metropolitan Museum of Art
Gerhard Richter: Painting After All will be the final major exhibition at The Met Breuer. Since 2016, The Met Breuer has received critical and public acclaim for its exhibitions program, which has been devoted to telling multiple histories of modernism from across the world, and oftentimes spanning several centuries, with exhibitions such as Like Life: Sculpture, Color, and the Body (1300-Now) and Unfinished: Thoughts Left Visible, and important solo exhibitions of artists, including Diane Arbus, Siah Armajani, Vija Celmins, Lucio Fontana, Kerry James Marshall, Marisa Merz, Nasreen Mohamedi, Mrinalini Mukherjee, Lygia Pape, and Jack Whitten.
Gerhard Richter: Painting After All is co-curated by Sheena Wagstaff, Leonard A. Lauder Chairman, Modern and Contemporary Art at The Met and Benjamin H.D. Buchloh, Andrew W. Mellon Professor of Modern Art in the Department of History of Art and Architecture at Harvard University, with Brinda Kumar, Assistant Curator, Modern and Contemporary Art at The Met.
It will be accompanied by a catalogue featuring essays by the curators and other scholars including Briony Fer, Hal Foster, Peter Geimer and André Rottmann, who approach Richter's work from fresh perspectives.
The catalogue is made possible by the Mary C. and James W. Fosburgh Publications Fund.
Additional support is provided by Christie's, and by Sharon Wee and Tracy Fu.
Related Programs
A range of programs have been organized to complement the exhibition, including Family Tours (Sat. March 14 and Sat., April 11) for families with children ages 3-11 and Teen Studio—Painting: Naturalism and Abstraction (Sat., March 28) for middle and high school students.
Education programs are made possible by Christie's and Joan and Donald J. Gordon.
The exhibition will also be open for viewing as part of The Met After Hours (Tues., March 10, 6-9 p.m.) for Members with Evening Hours, Members with Opening Nights, and Patrons as part of an exclusive evening that will offer after-hours access to the newest exhibitions at The Met Breuer.
The exhibition will be featured on the Museum's website, as well as on Facebook, Instagram, and Twitter using the hashtag #MetRichter. The primer—a dynamic online feature that invites visitors to engage with the galleries before their visit—will be available on the exhibition web page.
The Met Fifth Avenue
1000 Fifth Avenue
New York, NY 10028
Phone: 212-535-7710
The Met Breuer
945 Madison Avenue
New York, NY 10021
Phone: 212-731-1675
The Met Cloisters
99 Margaret Corbin Drive
Fort Tryon Park
New York, NY 10040
Phone: 212-923-3700