Lee Krasner Combat, 1965 Oil on canvas 179 × 410.4 cm
National Gallery of Victoria, Melbourne, Felton Bequest, 1992 (IC1-1992)
© The Pollock-Krasner Foundation

September 18, 2020 - January 10, 2021

Museo Guggenheim Bilbao
Avenida Abandoibarra, 2
48009 Bilbao
https://www.guggenheim-bilbao.eus
Contact us:
contacto(at)guggenheim-bilbao.eus
Telephone:
+34 944 35 90 00
+34 944 35 90 80

Lee Krasner (b. 1908; d. 1984) was a pioneer of Abstract Expressionism, the movement that made New York a thriving center for modern art in the postwar period. Born in Brooklyn, in an Orthodox Jewish, Russian émigré family, she decided to become an artist at 14. She applied to the only school in New York that offered an art course for girls and would later study at the Cooper Union, the National Academy of Design, and the Hans Hofmann School of Fine Arts.

Krasner was one of the first artists in New York to adopt an entirely abstract approach, and in 1942 she was included in the exhibition American and French Paintings at the McMillen Inc., alongside her friends Willem de Kooning and Stuart Davis. The one fellow exhibitor that she had not met before was Jackson Pollock, so she decided to visit his studio. In 1945 they married and moved to Springs, Long Island.

Unlike many of her contemporaries, Krasner refused to develop a 'signature image,' which she considered to be too rigid. Working in cycles, she sought out new means for authentic expression, even during the most tumultuous of times, including Pollock's sudden death in a car crash in 1956. Krasner's formidable spirit is felt throughout the body of work that she created over more than fifty years in the studio.

Lee Krasner Icarus, 1964 Oil on canvas 116.8 x 175.3 cm
Thomson Family Collection, New York © The Pollock-Krasner Foundation.
Courtesy Kasmin Gallery, New York - Photograph by Diego Flores.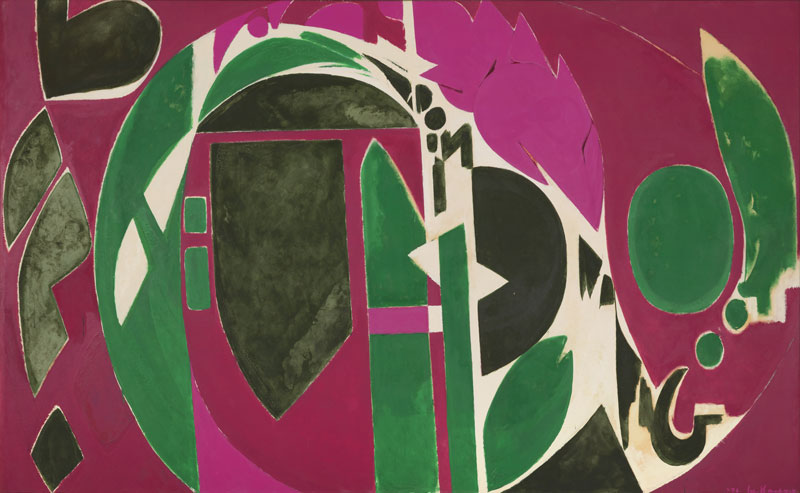 Lee Krasner Palingenesis, 1971 Oil on canvas 208.3 × 340.4 cm
Pollock-Krasner Foundation, New York © The Pollock-Krasner Foundation
Courtesy Kasmin Gallery, New York
Lee Krasner. Living Colour, which is the first exhibition of her work in Spain, brings together exceptional works from across her entire career: from her early self-portraits and life drawings to her collage designs for the War Services Project; to the vibrant 'little image' paintings of the late 1940s; to the bold collages presented at the Stable Gallery in 1955. In the summer of 1956, Krasner made a painting dominated by looping, fleshy forms, lined with black and with accents of pink that emphasize the bodily imagery, Prophecy. The same summer she found herself a widow, but she returned to her painting, making three works that continued the Prophecy series. The year after she began her 'Night Journeys', works of an unprecedented scale, with a restricted palette of white and umber. In the early 1960s, Krasner allowed colour to burst back into her painting and created airy and exuberant monumental works and striking collages made from shards of previous paintings.
Spanning a career of fifty years, Krasner's oeuvre was characterized by constant reinvention and unceasing exploration. She died in June 1984.
Exhibition organized by Barbican Centre, London in collaboration with the Guggenheim Museum Bilbao.
Curators: Eleanor Nairne and Lucía Agirre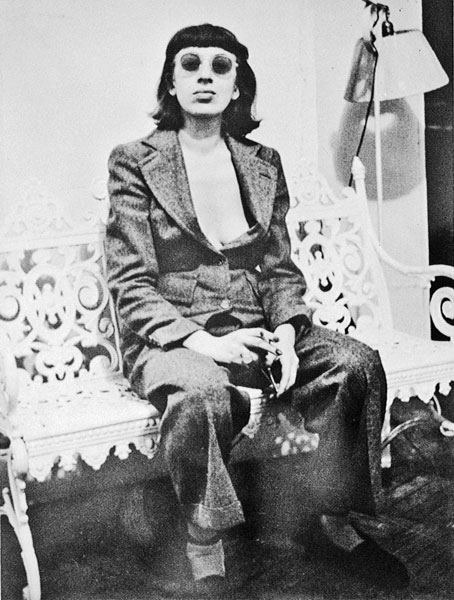 Photo: Lee Krasner, ca. 1938. Photographer unknown
Biographie LEE KRASNER
'I was a woman, Jewish, a widow, a damn good painter, thank you, and a little too independent'. Lee Krasner
Brooklyn, New York, 1908 | New York, 1984
1908
Lena Krassner is born on 27 October in Brooklyn, New York, three years after her Orthodox Jewish family had emigrated to America from a shtetl near Odessa, Russia (which today would be in the Ukraine) fleeing brutal pogroms and the Russo-Japanese War.
1926
Graduating at the age of seventeen, she goes on to study at the Woman's Art School at The Cooper Union and (after a brief spell at the Art Students League) at the National Academy of Design.
1935
Krasner is assigned to the Mural Division of the Fine Arts Project (FAP), part of the Works Progress Administration (WPA), a federal initiative to help artists with public commissions.
1937
Krasner enrolls at the Hans Hofmann School of Fine Arts.
1940
Krasner shows her work with the American Abstract Artists (AAA) for the first time as part of the Fourth Annual Exhibition at the American Fine Art Galleries, New York.
1941
On the occasion of the exhibition American and French Paintings, at the McMillen Gallery, Lee Krasner meets Jackson Pollock.
1942
Krasner designs large-scale displays for department-store windows in New York which promote war-training courses being made available at municipal colleges.
1943
Krasner leaves the AAA, because of the group's rigid mindset: they had denied membership to Alexander Calder and rejected the proposal for Hofmann to give a lecture.
1944
Krasner participates in the exhibition Abstract and Surrealist Art in America, which is selected by Sidney Janis and organized by the San Francisco Museum of Art.1945
In October, Krasner and Pollock are married and later move to Springs, Long Island.
1946
Krasner makes a breakthrough with a new series of works she calls her Little Images.
1948
Krasner begins to be called 'Lee Krasner' in professional and public contexts. She exhibits a selection of her Little Images and one of her mosaic tables in the exhibition The Modern House Comes Alive 1948–49 at the Bertha Schaefer Gallery in New York to critical acclaim.
1951
In October, Krasner's first solo exhibition, Paintings 1951, Lee Krasner, opens at Betty Parsons Gallery. Krasner reuses many of the canvases shown to create the collages she later exhibits in a solo exhibition at the Stable Gallery in 1955.
1956
During the summer, Krasner works on a painting she will call Prophecy. Her relationship with Pollock is suffering from his alcoholism. She decides to travel alone to Europe for the first time. She is in Paris when she learns that Pollock has died in a car accident.
1958
In February, Krasner's recent paintings are shown in a solo exhibition at the Martha Jackson Gallery in New York, and the Uris Buildings Corporation commissions her to design two large-scale mosaic panels for the company's headquarters.
1959
Krasner's mother dies. She begins a new body of work all painted under artificial light at night, as Krasner is suffering from chronic insomnia. Richard Howard describes these paintings as 'mourning' pictures, each generated by a 'night journey.'
1965
In September, Krasner's first retrospective Lee Krasner, Paintings, Drawings and Collages, opens at the Whitechapel Gallery in London.
1968
In March, Krasner has her first exhibition of new work at the Marlborough-Gerson Gallery in New York, Lee Krasner Recent Paintings.
1972
In April, Krasner joins a group called Women in the Arts and pickets the Museum of Modern Art to protest its neglect of female artists.
1973
In November, the Whitney Museum of American Art presents Lee Krasner: Large Paintings, Krasner's first solo show at a major New York museum.
1975
Lee Krasner: Collage and Works on Paper, 1933–74 opens in January at the Corcoran Gallery of Art in Washington D.C. The exhibition tours to the Pennsylvania State University Museum of Art and the Rose Art Museum at Brandeis University in Massachusetts.
1976
Krasner joins Pace Gallery, becoming the third woman they represent; the following year she presents her series Eleven Ways to Use the Words To See at the New York gallery.
1978
Barbara Rose's documentary, Lee Krasner: The Long View, is released.
1980
Krasner receives the Outstanding Achievement in the Visual Arts award from the Women's Caucus for Art.
1981
The Guild Hall opens Krasner/Pollock: A Working Relationship, curated by Barbara Rose. The exhibition tours to Grey Art Gallery and Study Center, New York University.
1982
Krasner is awarded the 'Chevalier de l'Ordre des Arts et des Lettres' in France, presented to her by the French Minister of Culture, Jack Lang.
1983
The day of Krasner's seventy-fifth birthday, Lee Krasner: A Retrospective, curated by Barbara Rose, opens at the Museum of Fine Arts, Houston. The exhibition travels to the San Francisco Museum of Modern Art; the Chrysler Museum of Art, Norfolk, Virginia; Phoenix Art Museum, Arizona; and the Museum of Modern Art.
1984
On 19 June, Krasner dies in New York Hospital.
Museo Guggenheim Bilbao
Avenida Abandoibarra, 2
48009 Bilbao
Telephone:
+34 944 35 90 00
+34 944 35 90 80