Ann and Graham Gund Gallery (Gallery LG31)
through July 23, 2023

Thanks to the popularity of the instantly recognizable Great Wave—cited everywhere from book covers and Lego sets to anime and emoji—Katsushika Hokusai (1760–1849) has become one of the most famous and influential artists in the world. This major exhibition takes a new approach to the work of the versatile master, pairing more than 100 of his woodblock prints, paintings, and illustrated books from the MFA's renowned collection with more than 200 works by his teachers, students, rivals, and admirers. These unique juxtapositions demonstrate Hokusai's impact through the centuries and around the globe—seen in works by, among others, his daughter Katsushika Ōi, his contemporaries Utagawa Hiroshige and Utagawa Kuniyoshi, the 19th-century French Japonistes, and modern and contemporary artists including Loïs Mailou Jones, John Cederquist and Yoshitomo Nara.

"Hokusai: Inspiration and Influence" is sponsored by UNIQLO USA. Generously supported by the MFA Associates / MFA Senior Associates. Additional support from the Jean S. and Frederic A. Sharf Exhibition Fund, the Museum Council Artist in Residency Program Fund, the Dr. Terry Satsuki Milhaupt Fund for Japanese Textiles, the MFA Associates / MFA Senior Associates Exhibition Endowment Fund, the Patricia B. Jacoby Exhibition Fund, and the Alexander M. Levine and Dr. Rosemarie D. Bria-Levine Exhibition Fund.

Museum of Fine Arts, Boston
465 Huntington Avenue
Boston, MA 02115
617-267-9300
March 26–July 16, 2023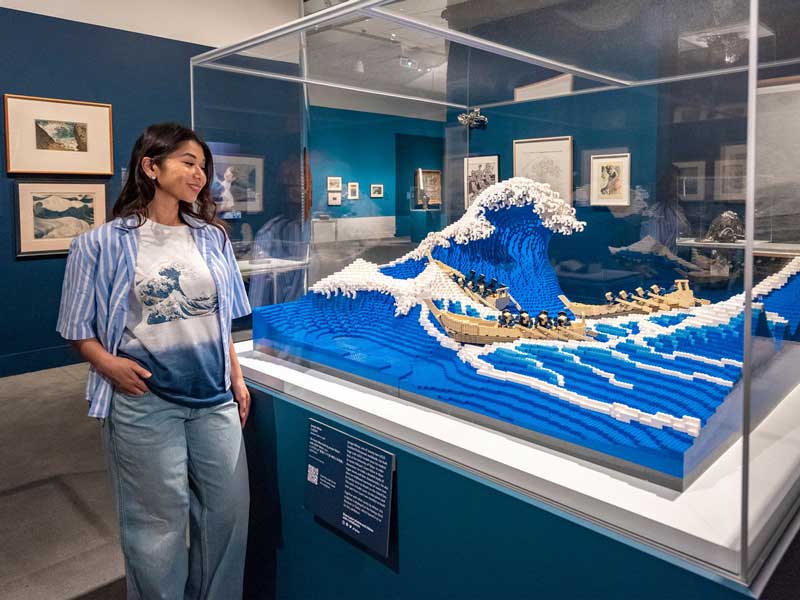 Hokusai: Inspiration and Influence
March 26–July 16, 2023
A New Take on Hokusai
From book covers to emojis, Hokusai's prints are instantly recognizable across the globe. On view now, "Hokusai: Inspiration and Influence" provides a fresh look at one of the most influential artists of all time, tracing his impact on others during and after his lifetime.
Discover his most famous images alongside works by contemporary artists inspired by his legacy. Works on view include:
Andy Warhol and his 1980s rendition of the Great Wave
Lego Certified Professional Jumpei Mitsui and his reconstruction of the Great Wave (made from 50,000 Lego bricks)
Artist Yoshitomo Nara's reimagined Red Fuji as a snow-covered ski slope
Skip the weekend crowds and visit the MFA on a Thursday or Friday! We're open until 10 pm, so make a night of it with dinner and drinks at the New American Café.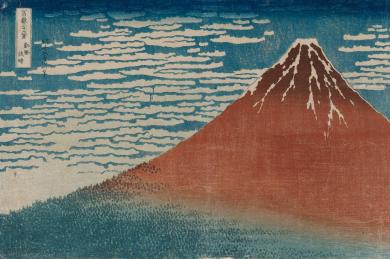 Making Waves across Centuries
Thanks to the popularity of works like the instantly recognizable Great Wave—cited everywhere from book covers and Lego sets to anime and emoji—Katsushika Hokusai (1760–1849) has become one of the most famous and influential artists of all time. Taking a new approach to this endlessly inventive and versatile Japanese artist, "Hokusai: Inspiration and Influence" explores his impact both during his lifetime and beyond. More than 100 woodblock prints, paintings, and illustrated books by Hokusai are on view alongside about 200 works by his teachers, students, rivals, and admirers, creating juxtapositions that demonstrate his influence through time and space.
A Lasting Influence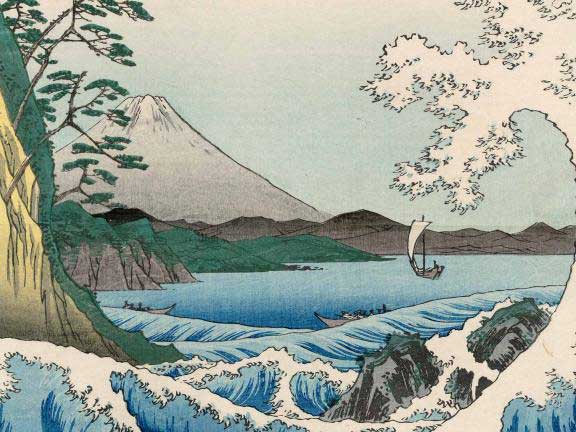 Visitors can see Hokusai's legacy in works by, among others, his daughter Katsushika Ōi, his contemporaries Utagawa Hiroshige and Utagawa Kuniyoshi, 19th-century American and European painters, and modern and contemporary artists including Loïs Mailou Jones and Yoshitomo Nara. In the exhibition's largest section, dedicated to Under the Wave off Kanagawa (the Great Wave) (about 1830–31), Hokusai's print appears with works that riff on or directly cite the iconic image, including John Cederquist's How to Wrap Five Waves (1994–95), Roy Lichtenstein's Drowning Girl (1963), Andy Warhol's The Great Wave (After Hokusai) (1980–87), and even a Lego recreation (2021) by Lego certified professional Jumpei Mitsui. The sweeping range of work shows Hokusai's ubiquity and enduring appeal, which shows no sign of fading anytime soon.
"I am inspired by his general work, the quality—I would say fearless expression."
—artist Taiko Chandler on Hokusai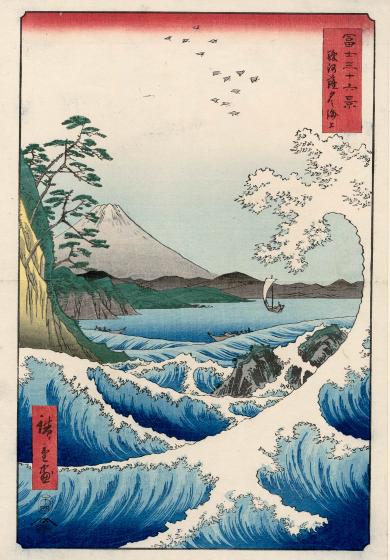 Museum of Fine Arts, Boston
465 Huntington Avenue
Boston, MA 02115
617-267-9300
March 26–July 16, 2023