PIERRE SOULAGES

"One day I was painting, black had invaded the entire surface of the canvas, without shapes, without contrasts, without transparencies.
In this extreme I saw in a way the negation of black.
My instrument was no longer black, but this secret light coming from black."
Pierre Soulages

We are deeply saddened to announce the passing of the artist Pierre Soulages. He was 102 years old, and leaves an immense legacy. Our condolences to his wife, Colette, who accompanied him for so many years. One of the greatest painters of our time, but mostly a soul in search of the absolute, through his relentless work on the depth and luminosity of the color black. This passion had seized him, as a child, in front of the prehistoric steles of the Museum of Rodez, where he was born. Or even, in Conques, the 11th century abbey, as a child, where years later he would create incredible stained glass windows (1992 - 1994). It was at that moment that the certainty of art and his vocation to paint had come to him. The architecture of the abbey of Sainte-Foy impressed him, just like a vision. Painting, engraving, lithography, he declined on all mediums his obsession with black, digging deep in what had marked his childhood. "The things that were fraternal to me, the earth, the old wood, the stones, the wet iron, all these rough things certainly marked me. I have always preferred them to pure and lifeless materials."

Light and darkness, rough and smooth, matte and shiny: Soulages was the painter of contrast, which found its incarnation in abstraction and his Outrenoir - beyond black, to light.


"Soulages was one of the most innovative painters of the 20th century, a remarkable artist and extraordinary person. He will be missed but his work will undoubtedly live on."

- Gilles Dyan, Opera Gallery Founder and Chairman
https://www.operagallery.com/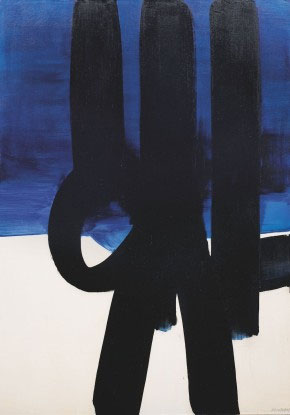 PIERRE SOULAGES
Peinture 162 x 114 cm, 17 avril 1972
Oil on canvas
162 x 114 cm | 63.8 x 44.9 in
Known as the painter of "black and light", Pierre Soulages was born in 1919 in Rodez, in the South of France. As a child, he was fascinated by the Celtic carvings, prehistoric cave art, and Romanesque architecture and sculpture of his native region and these early impressions continue to surface throughout his career. In 1938, he enrolled in the École Nationale Supérieure des beaux-arts, Paris, but he was disappointed by the traditional instruction and soon moved back to his hometown. After World War II, Soulages returned to Paris, where he was able to fully concentrate on painting, and soon became one of the pioneers of post-war abstract painting. Today, he is considered one of the most innovative painters of the 20th century. He lives and works between Sète and Paris, France.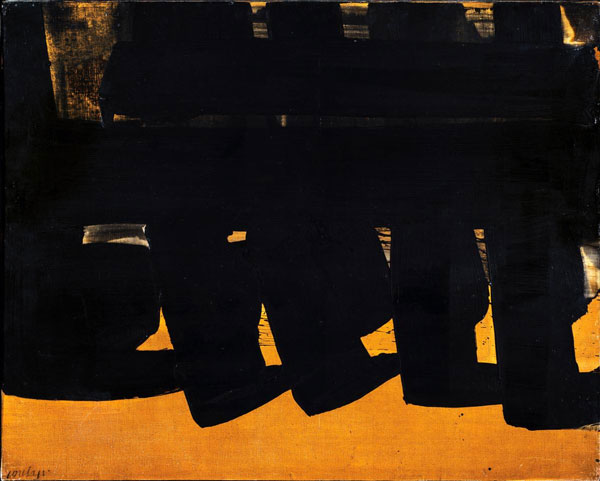 PIERRE SOULAGES
Peinture 73,5 x 92 cm, 1970
Oil on canvas
73,5 x 92 cm | 28.9 x 36.2 in
Soulages' first groundbreaking work was the 'Broux de noix' series (Walnut Stains) (1947–1959), made using walnut stain—commonly reserved for furniture—instead of paint. These paintings attracted attention not only for their use of an unconventional and inexpensive material but also for the bold and restrained energy embedded in them. Black progressively conquered the surface of Soulages's calligraphic abstract paintings, which also incorporated subtle hints of color (mainly ocher and blue). His aesthetics radically shifted toward monochrome in 1979, when he initiated his lifelong series Outrenoir. Literally translating as "beyond black," Outrenoir opens onto a new realm that transcends purely gestural and monochromatic abstraction. Systematically applied in thick layers on canvas, black paint is meticulously scraped, striated, and overall sculpted to create smooth or rough areas that reflect light in various ways. By masterfully turning black into a luminous colour, Soulages powerfully evokes the genesis of the world, which came out of darkness.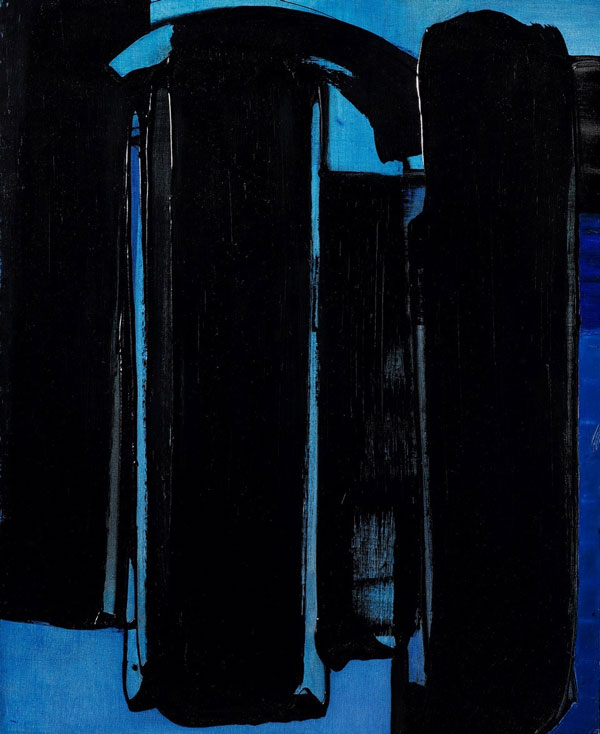 PIERRE SOULAGES
Peinture 100 x 81 cm, 1975
Oil on canvas
100 x 81 cm | 39.4 x 31.9 in
For more than seven decades, Soulages has exhibited internationally and regularly. He has been honored with two retrospectives in France, at the Musée d'Art Moderne de la Ville de Paris in 1996, and at the Musée National d'Art Moderne in 2009. In 2001, he was the first living artist to be given a full-scale survey at the Hermitage Museum, Saint Petersburg, and in 2014, the Musée Soulages opened in the artist's hometown of Rodez, housing five hundred paintings spanning Soulages's career. More than 150 of his paintings are in public collections around the world, including the Centre Pompidou, Paris; Solomon R. Guggenheim Museum, New York; Harvard Art Museums, Cambridge, Massachusetts; Montreal Museum of Fine Arts; Musée d'Art Moderne de la Ville de Paris; Museu de Arte Moderna, Rio de Janeiro; Museum of Modern Art, New York; National Gallery of Art, Washington, DC; Philadelphia Museum of Art; Tate Modern, London; and Walker Art Center, Minneapolis. On the occasion of Soulages's centennial birthday in December 2019, the Musée du Louvre paid homage to the artist—who continues to paint today—with a survey of his seven-decade career, concurrent with an exhibition at the Centre Pompidou.