PHOTO BASEL
coinciding with Art Basel
Booth # 23, Flatland Gallery
14 – 18 June, 2017
Volkshaus, Basel - Switzerland
Flatland Gallery presents Hendrik Kerstens & Ruud van Empel

Focus Hendrik Kerstens

Flatland Gallery is proud to present two very rare works of Hendrik Kerstens
at the third edition of PHOTO BASEL coinciding with the 48th edition of Art Basel, 2017.

In the work of Dutch photographer Hendrik Kerstens (1956) everything breathes Dutchness. It is in the hemisphere of the radically realist paintings of Dutch masters that Kerstens explores the photograph as a surface, a platform to study contemporary ordinary objects in historical portrait tradition. In this, his daughter Paula is a continuous element in his photographs, wearing down-to-earth styles of headwear made of or consisting of simple materials or objects as aluminium foil, bubble wrap, wet towel, plastic bag, or paper roll. Kerstens appreciates how those common, sometimes, disposable objects can take a rich character, switching their ordinary and pure functional purpose to a permanent, frisky, vivid and sustainable impression. Taken out of their original context those, now, versatile objects become multifunctional and more valuable.

In the works exhibited at PHOTO BASEL - the new Blue Turban (2017) and the very rare Cosy (2012) and Napkin (2009) - the ambition to illustrate the dialogue between history and contemporary life, rich and sober, functional and valuable, come together. Kerstens accomplishes to renew and contemporize history while boosting the position and function of day-to-day objects.

Cosy, 2012, 62,5 x 50 cm, raw/color negative 4/5 inch - ultrachrome, edition of 5 + 2 AP, available AP 1 © Hendrik Kerstens
In Cosy the use of color tones down the straight traditional portrayal and dark vibe of old times. The red and white tea towel seems to have been used recently, as if it came right out of the kitchen. Neatly folded on her head, the headgear reminds us of women's clothing depicted by the Flemish Primitives, while the ordinary sentiment and the handling of the material betray firmly a contemporary illustration. In comparison to Napkin, the skin of Paula has a slight blush here, adding a more vibrant note to her posture. Is there even a small smile detectable? Her gaze is forceful and poignant. She captures us completely with her eyes. Around her neck she wears the old fashioned ruff, worn by men, women and children from the mid-sixteenth until mid-seventeenth century. The stiffness of the garment forced upright posture, and their impracticality led them to become a symbol of wealth and status. Paula's black long sleeved shirt is perhaps from the latest fashion, however, in the 17th century black was seen as chic and associated with fragile austerity and seriousness.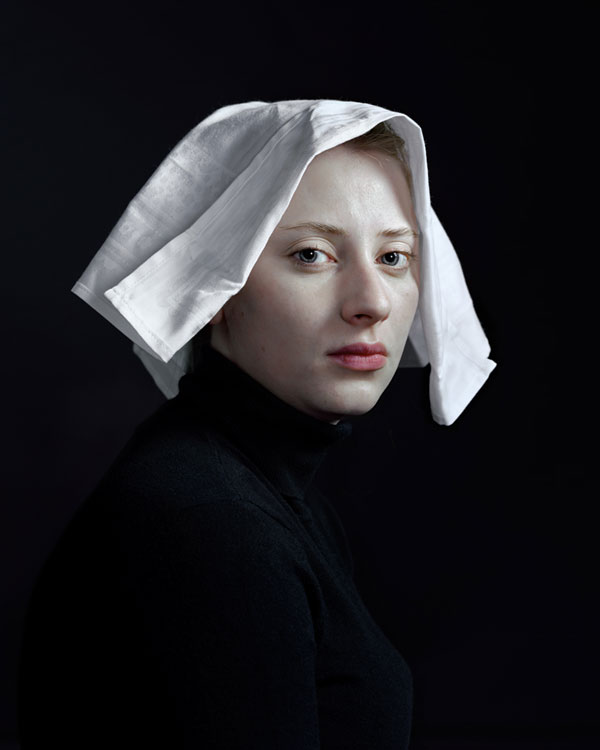 Napkin, 2009, 62,5 x 50 cm, raw/color negative 4/5 inch - ultrachrome, edition of 5 + 2 AP, available AP 1 © Hendrik Kerstens
In Napkin, Paula is seen 'en profil', her face somewhat to the right, gazing at the viewer. A plain white piece of fabric rests slightly on her head. She wears a dark blue turtleneck that almost absorbs in the dark background. The light pink of her lips sets off against the paleness of her skin. She seems fragile. But her gaze is poignant and consistent. The portrait elicits nobleness and stillness. The intensity of the white of the napkin rises from the picture. We can only stare at her innocent face. Nothing else can distract us.
Kerstens worked many times with Kathy Ryan from The New York Times Magazine and for Alexander McQueen's spectacular show The Horn of Plenty: Everyting but the Kitchen Sink, that was a retrospective on 15 shocking years in fashion. Kerstens was awarded the PANL award (2001) in the Netherlands; the Taylor Wesing Photographic Portrait Prize (2008) at the National Portrait Gallery in London, the silver LeadAward Medaillon, Porträtfotografie des Jahres (2010) in Germany and the 11th Lucie Award (2013). In 2017 his work is exhibited in the group exhibition "L'attention au réel: Art flamand et hollandais" at the Musée des Beaux-Arts in Caen with Jan Fabre, Fiona Tan, Cyprien Gaillard and Hans Op De Beeck.
Flatland Gallery
Lijnbaansgracht 312-314
Amsterdam, The Netherlands
Wed - Sat: 1 pm - 6 pm
Info(at)flatlandgallery.com
+31(0)203305321